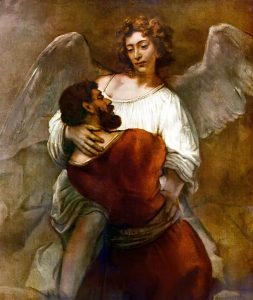 Struggles with spirituality or religion often cause significant emotional and psychological distress. I've worked with many clients who feel profoundly troubled by questions of spirit. However you define these questions, whether in a Buddhist, Christian, Jewish, pagan, atheist, agnostic, or any way, something about human nature wants to ask about the nature of soul, spirit, God, or other realities that we know very little about but find ourselves deeply curious to discover.
While certain individuals don't seem so oriented to spiritual concerns, at least until trauma, illness, or the prospect of death comes up in their lives, others were either born wondering about these concerns or were brought up in families or religious communities that put spiritual questions at the forefront of consciousness.
So why and how do spiritual concerns become struggles that can cause a person to suffer emotionally? This is a complex question, but let's consider a few of the reasons. We live in a culture dominated by the success of the natural sciences and an awareness of the historical origins of religions. Both of these tend to make us uncertain about the "old time religion" that we may have grown up with. What seemed like clear and certain knowledge of who God is and how to know God, for example, may crumble when a person starts studying the world through the lens of natural science.
Suddenly questions come up, such as whether what we call God might be the result of certain structures in the human brain that create an image of an ultimate reality. Or we start seeing that the holy scriptures of our religion contain contradictory information if read in a very literal way, and this shakes our faith. We don't know what to believe anymore. Or the spiritual leaders we had trusted end up betraying our trust in some way, and we are left in a crisis of faith. Or it dawns on us that something we took for granted, for example a moral teaching on sexuality, has actually caused a great deal of unnecessary suffering.
Pushed further, a person of faith may begin to doubt that the God they trusted is really so trustworthy after all. I remember when I was studying theology in graduate school in my 20s, we had a professor who taught a course on theology after the holocaust. How are we to make sense of God, or are we, in a world where horrors beyond our imagining take place? This is an intensified form of what used to be called "the problem of evil."
These days, especially in a town like Portland, many people explore spirituality outside of the major world religions. Westernized forms of various eastern traditions, such as meditation and yoga practices attract many seekers. Yet my clients sometimes struggle in these communities too. They may constantly seek for the true path that they hope will relieve them of life-long emotional struggles, and the constant seeking itself becomes a problem. Or they may beat themselves up for falling short of some imagined, perfectionistic standard of true meditation, for instance.
The many gurus that have sprouted up sometimes cause a lot of harm to their devotees as well. We would all like to idealize someone, a powerful figure who promises to deliver us from our problems. And it may work for awhile, but often the guru or teacher later is exposed as a mere human being, and is sometimes even abusive in the realms of money, power, or sex, and followers end up disillusioned and despairing.
More "pop" versions of New Age spirituality tend to commercialize the spirit. Every new method has a trademark, and turns into a profit-making system. They may promise to help you transcend the anxieties and struggles of living in the world. They may fantasize about escaping the limitations that we all suffer. Illness becomes something you should be able to visualize your way out of, and when you can't cure yourself, you feel doubly guilty for somehow not being conscious enough, and you end up in a depression.
I studied philosophy and religion before I got interested in clinical psychology, and so I'm quite familiar with all of these questions and searchings, both from an intellectual standpoint, and from my own personal experience wondering and seeking answers to the questions that we all find ourselves asking about the nature of things.
I favor an open attitude to these questions. Wondering and questioning, in my view, are far more interesting than pretending absolute knowledge, or thinking we can pin God or Reality or the Cosmos down in a formula of doctrines. The ancient Greek philosopher Aristotle said that by nature we desire to know, but that this desire begins in wonder, and every question we answer leads to further questions! By shifting our focus from attaining certainty to lingering in our wondering and curiosity, we enter a far richer landscape, and one where we don't get so caught in impossible dilemmas that can quite literally drive us mad.
True faith opens us to an infinite horizon that will never cease to stimulate our wondering nature and lead to further and further questioning. For me, living in this space is the essence of spiritual transformation.