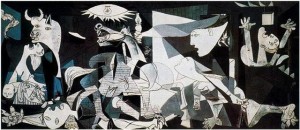 To be alive is to be vulnerable to hurt, and so trauma comes in many forms, at all stages of life. The world is full and rich, but it's not entirely safe, and people who have suffered serious trauma know this very well. Some forms of serious and damaging trauma include: sexual abuse at any age, chronic neglect when you were a kid, getting beat up by parents, strangers, or significant others, living through a parent's mental illness when you were little, warfare and violence, and even more subtle but very damaging experiences like being shamed by parents, religious leaders, teachers, etc.
We now understand that the human psyche responds to trauma in a self-protecting way. It's rather ingenious, actually. Your spontaneous, open, un-defended self sees the trauma coming, and goes into hiding. In a sense, your true self "goes away," and various false selves take over, so that you can survive what is happening to you.
On the one hand, this going away saves you from even worse hurt. On the other hand, at a certain point, it simply doesn't work anymore. It limits you. You may find yourself sad, spaced out, disconnected from yourself and others, and longing for that true self you lost because of your trauma. You may wonder, who was I, before those things happened to me? Can I ever get in touch with the person I was? Will I ever feel truly alive again?
It's definitely possible to reconnect with yourself, even after serious trauma and long years of separation from your true self. I've seen it happen. It's not necessarily quick and easy, and that's why a solid relationship with a therapist over a period of consistent therapy is so important.
You probably won't feel too keen on revealing your true self at first. Your natural expectation is that you'll just get hurt again. It's hard to trust, and you may even fight against a healing therapy relationship. A sensitive therapist will realize this, and give you all the time you need to venture back into life. That therapist will notice when to encourage you to come out of hiding, and when to leave you alone and let you find your way in your own timing.
The way out of the effects of trauma is challenging, but possible, and you're not alone. I would love to talk with you about your experience and hopes for therapy.