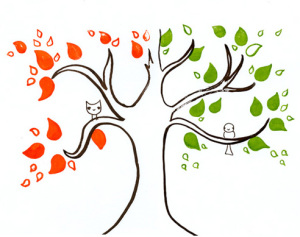 Name me one issue that causes more people more confusion and pain—and more hope and joy—than intimate relationships.
I don't generally work with couples in my practice. I tend to work with individuals, but we often talk about hopes, dreams, difficulties, and conflicts in that person's intimate relationships.
This work opens up awareness of the underlying patterns that may plague a client's relationships. It takes some time to sort this material out. For example, the client's relationship with mother or father while growing up usually shows up in this process. The way we relate to an intimate partner has a lot to do with how we related to our first loves—our parents!
Feeling judged, disappointed, neglected, rejected, or abandoned by your partner? Does that feel familiar? It could be that you've ended up with someone who triggers old feelings that mom or dad brought up for you. We all tend to repeat the past unconsciously.
Do you continually seek the perfect soul mate to the point that you give up on relationships without giving them a real chance? It could be that you are unknowingly trying to re-create a perfect relationship that you had—or didn't have but longed to have—with mom or dad.
Did you experience trauma of some kind when you were a child or adolescent? Do you find that those old hurts intrude on your current relationships? You're not alone if you do.
Of course, it's not this simple at all. It's complicated on many levels, but I'm offering examples of common issues.
We seem wired to seek a special partner in life, and we pour a lot of longing and expectation into finding this mate. In fact, take a look around, and you'll see that there's a whole industry of self-help, special therapies, couples' counseling methods, and workshops that promise to fix this very human conflict around achieving fulfillment in an intimate relationship.
Have you ever noticed how often (I'm not saying always) the hoped-for fulfillment seems to exist on the other side of a gulf we can't seem to cross? It's as though we stand over here on this side of the gulf, with longings for what we believe must exist over there, on the other side.
We cling to an idea of how a relationship is supposed to be, and we don't live in the actual reality, right here, right now, of our relationship. Real relationships are messy—full of contradictions, and include happiness and frustration, aliveness and boredom, health and illness, fulfillment and disappointment, and togetherness and separation.
When I work with a client, our conversations often spend at least some time on questions of how to be in an intimate relationship that challenges, stimulates, and meets basic desires. Sorting this all through helps the client discover what he or she wants and doesn't want, how to avoid sabotaging good relationships, and how to avoid getting stuck in bad ones. It also helps the client discover how to ground a healthy relationship with another person in a healthy relationship with his or her own self.